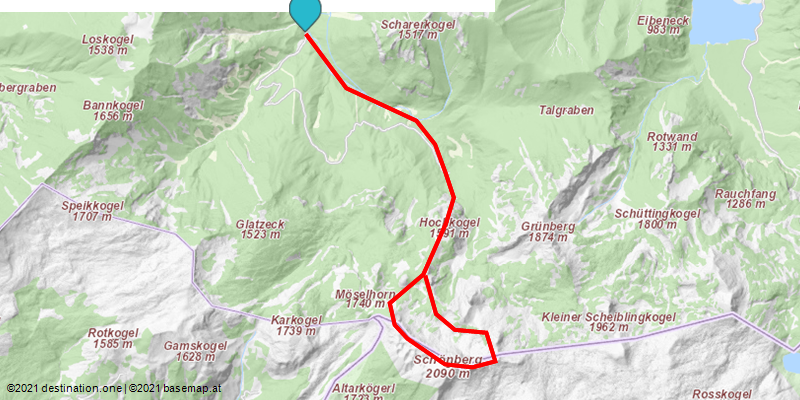 Schönberg in Ebensee
Special features
Tour and route information
Starting place: 4802 Ebensee
Starting point: parking lot "Schwarzenbach"
Destination: 4802 Ebensee
Destination: Schönberg
Length: 8,1 km
Altitude difference (uphill): 1489m
Altitude difference (downhill): 350m
Lowest point: 535m
Highest point: 2024m
Panoramic view:
Great panorama
The view to the fantastic alpine panorama as well as the beautiful alpine flora are the reasons for the popularity of the Schönberg as a destination for hikers.



The tour starts at the Hochkogelhaus at the path 211 towards the hut Ischler Hütte. Between the Vorderer and Hinterer Rauhen Kogel branches the path to the left side off through the valley Feuertal. At the Ahnenschacht, which is a big cave, branches the steep track off to the right side (towards the Schönberg east ridge). The crossing of the ridge, which leads directly to the summit and which is secured by ropes, requires slip resistance and ridness of vertigo. The magnificent panoramic view of the Alps mountains compensates the hardships of the increase in the high alpine ridge area. The descent to the Hochkogelhaus can be done via an easy west ridge. Through a forest meanders the steep track to an branch-off. You keep right an reach the path back to the Hochkogelhaus.Those who think the east ridge is to difficult, should walk via the west ridge. The path via the west ridge does not lead through the valley Feuertal!

Hiking-time:
parking lot - Hochkogelhaus: approximately 3 hours
Hochkogelhaus - valley Feuertal- Schönberg- Hochkogelhaus: approximately 4 hours

Arrival
Accessibility / arrival
from the highway: departure Regau-B145 in the direction of Bad Ischl-departure Offensee-till parking lot "Schwarzenbach"
Travelling by public transport
Route planner for independent travellers
Wanderweg
Starting place: Ebensee
Metres of altitude: 1489m